Our approach to wholesale specialty coffee supply is based on the simple tenets of quality, consistency and accessibility.
wholesale for your business
Our approach to wholesale specialty coffee supply is based on the simple tenets of quality, consistency and accessibility. We want the coffee that you serve to be the very best it possibly can be. In addition to our coffee shops, we supply freshly roasted coffee to some of the finest hospitality venues and businesses in Auckland and across New Zealand.
If you would like to learn about any aspect of our wholesale service, please get in touch with us directly or via our enquiry form below. Ollie will be in touch to chat all things speciality coffee.
ph. +64 21 289 0116
em. oliver@eighthirty.com
enquire now
Services

Along with providing the best coffee to our clients, we work on building long term relationships that foster success.

eighthirty's wholesale service includes:
– Personal delivery in Auckland
– Equipment and coffee bar consultation
– Comprehensive barista training
– Advice and supply of accessories, brewers and tools

- Marketing package including signage, photography and social media presence

We are available around the clock to assist our wholesale customers with any question or concern.

Equipmment

The best craftsmen have the best tools. As coffee roasters first and foremost, we focus primarily on the coffee rather than the machine. That said, we know that the right equipment is necessary to produce consistently excellent coffee.

For that reason, we recommend and provide in-house support for La Marzocco espresso machinery as well as a range of other mechanised and manual filter brewers. From equipment specification and supply through to setup and on-going upkeep, we are able to help get your cafe up and running as effortlessly as possible.

Training

Using the knowledge we have gained through setting up and running our own coffee bars and cafes, we can equip both new and established businesses with the skills to make their coffee exceptional.

Balancing quality at high volumes is a delicate exercise that requires constant attention and ongoing training. We have the skills and experience to provide that balance. We offer on-site and in-house barista training programs and off-site workshops and education sessions.

We focuse on the specific needs of each business, and work on building a strong and consistent team of baristas to get there.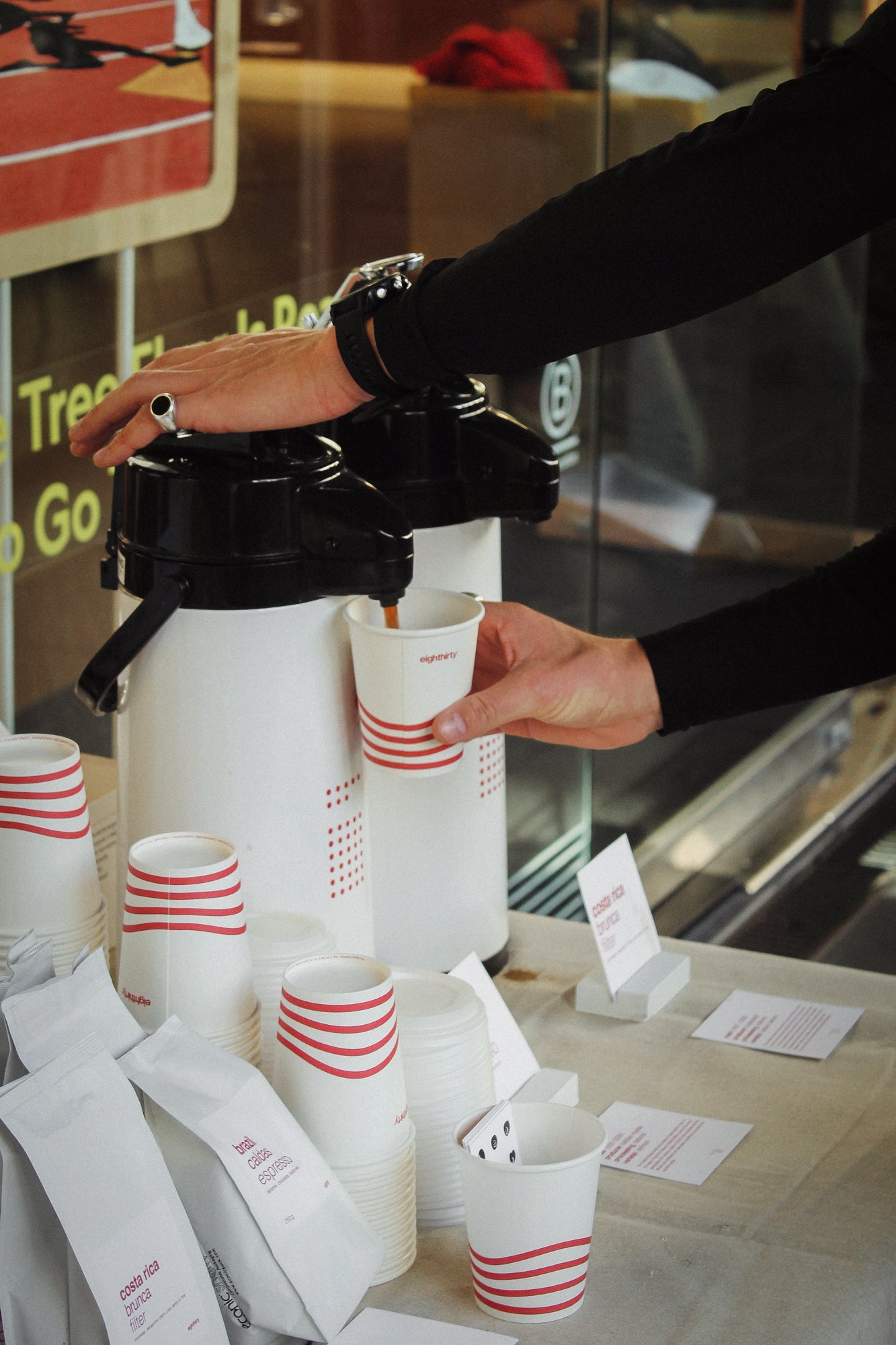 – events
Keen to see eighthirty at your next event? Do you need to supply a caffine hit for a group of coffee lovers quick, hot and tasty? Well, we've got good news for you.
eighthirty are always keen to supply some good brews to some good folk. We've got the gear, you bring the people. If you've got an event or shop pop up coming up that you'd like us to help promote and deliver some fresh brews at, hit us up. We're open to ideas and always keen to help out small businesses and local legends wherever possible.
Get in touch with our marketing & sales guru Sarah at sarah@eighthirty.com to discuss your event.
enquire here